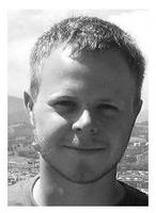 I am a linguist who works in the areas of phonetics and laboratory phonology. Most of my current work is related in one way or another to speech prosody.
I completed my Ph.D. in the UCLA Linguistics Department in 2013. I am currently Associate Professor at the City University of New York (CUNY) in the following programs: the Undergraduate Program in Linguistics at the College of Staten Island (where my lab, the CUNY Prosody Lab, is located), the MA/PhD Program in Linguistics at the CUNY Graduate Center, and the PhD Program in Speech-Language-Hearing Sciences at the CUNY Graduate Center.
New Publications:
The Accent Advantage in Phoneme Detection: Importance of Local Context, Attention, Perception, & Psychophysics, September 2021
Autistic traits predict spectral correlates of vowel intelligibility for female speakers. Journal of Autism and Developmental Disorders, May 2021.
Exploring the similarity between implicit and explicit prosody: Prosodic phrasing and individual differences. Language and Speech, November 2020.
Preceding syllables are necessary for the accent advantage effect. JASA Express Letters, September 2020.
Lower working memory capacity is associated with shorter prosodic phrases: Implications for speech production planning. Speech Prosody, July 2020
Phonology, phonetics and signal-extrinsic factors in the perception of prosodic prominence: Evidence from Rapid Prosody Transcription. Journal of Phonetics, September, 2020.
Recent and upcoming presentations: